Waters and All Financial Services Committee Democrats Call on President Biden, House Speaker Pelosi, and Senate Leader Schumer to Fund Housing in Reconciliation

Congresswoman Maxine Waters (D-CA), Chairwoman of the House Financial Services Committee, sent a letter calling on President Joseph R. Biden, House Speaker Nancy Pelosi, and Senate Majority Leader Charles Schumer to include the Committee-passed housing provisions in the Build Back Better Act. 

The letter was signed by every Democratic Member of the House Financial Services Committee. 

"As we continue to work together to pass a broad-ranging and comprehensive infrastructure plan, we cannot ignore the immediate housing infrastructure needs facing individuals, families, and communities throughout the United States," wrote the lawmakers. "This is especially true for low-income people and families of color who disproportionately lack equitable access to housing opportunities due to an ongoing history of discriminatory policies and federal underinvestment in their communities' needs. Just as we need to invest in our nation's roads and bridges, it is also absolutely essential that we invest in our nation's affordable housing…As members of the House Financial Services Committee, we can affirm that a comprehensive approach to infrastructure includes a robust investment in our nation's affordable housing stock and that a comprehensive approach to our social safety net includes investment in affordable housing. Housing is health care, it is stability for children, it is climate justice, and it is racial justice. This is an investment that simply cannot wait and must be included at robust levels in the budget reconciliation package. This is what families across the country—from California and Arizona, to Iowa and West Virginia—voted Democrats into office to address. This is our opportunity to meet our constituents where they are in this moment."

On September 13, 2021, Committee Democrats passed the Financial Services Committee Title of the Build Back Better Act to provide long-overdue investments in housing resources, such as affordable housing, downpayment assistance, and efforts to end homelessness.

Read the full text of the letter HERE.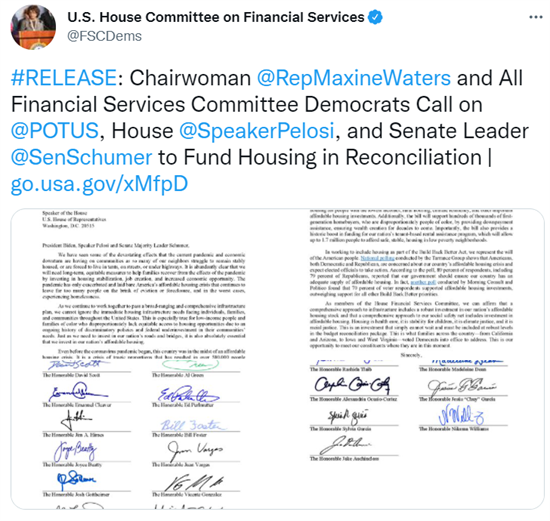 ###


Committee Hearings

SEC Chair Gary Gensler delivers his opening statement at this week's full Committee hearing entitled, "Oversight of the Securities and Exchange Commission: Wall Street's Cop Is Finally Back on the Beat."
Read Chairwoman Waters' opening statement at the full Committee hearing HERE.
###


Tweets of the Week:
Keep Housing in the Build Back Better Act Edition
###