Blog
ICYMI - Egregious Ex-Im Bank Deal of the Day
Posted by Staff
on July 16, 2014
Why Are American Taxpayers Financing an Aquarium in Brazil?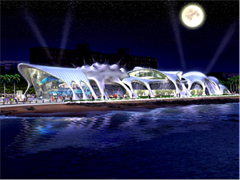 A rendering of the Acquario Aquarium in Fortaleza, Brazil (Ex-Im Release)
Brazilians still embarrassed by their team's stunning loss to Germany in the World Cup will soon be able to seek refuge in this "spectacular aquarium on the beach in Fortaleza," in the words of Export-Import Bank Chairman Fred Hochberg. American taxpayers will be financing the project through a direct loan approved by the Export-Import Bank to the Brazilian state of Ceará.
Two questions come to mind:
1. Will the aquarium be the home for the next psychic octopus?
2. Why should American taxpayers be put on the hook for this?
Here are the deal details:
In October 2012, the Ex-Im Bank approved $105 million in financing to the Brazilian state of Ceará for an aquarium there. According to the Ex-Im Bank: "An anticipated tourist attraction, the aquarium will boast four floors housing 25 large tanks containing approximately 15 million liters of water and showcasing 500 marine species and 35,000 individual specimens. The aquarium will also feature interactive exhibits, two 4D cinemas, one 3D cinema, and an educational platform dedicated to the research and preservation of aquatic life along the Brazilian coastal regions. When completed, Acquario will rank as the largest aquarium in the Southern Hemisphere and the third largest in the world." – Ex-Im Release