Blog
Egregious Ex-Im Bank Deal of the Day
Posted by Staff
on July 21, 2014
With One Hand U.S. Sanctions Russian Companies, But With the Other…

The Export-Import Bank is financing deals with Russian companies hit
by U.S. sanctions this past week.
Two of the four Russian firms targeted with new sanctions announced last week by the Obama administration have received more than $1 billion in U.S. taxpayer-financed subsidies from the Export-Import Bank.

Vnesheconombank (VEB) and Gazprombank – two state-owned Russian banks – have together received more than $1 billion in Ex-Im financing since 2003.

Here are the deal details:

In 2003, Gazprombank received a five-year loan guarantee worth $22.6 million from Ex-Im.

VEB alone has received over $1 billion in Ex-Im backed loan guarantees. This includes a $496 million loan guarantee in 2012 and a $703 million loan guarantee in 2014.

The sanctions do not apply to these existing arrangements, "meaning Ex-Im is under no obligation to cancel previous deals it has with either company," according to one report.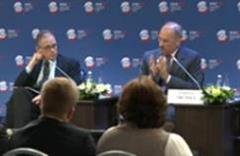 Ex-Im Bank Chairman Fred Hochberg (left) with Vladimir Dmitriev, Chairman, Vnesheconombank

###