Blog
Egregious Ex-Im Bank Deal of the Day
Posted by Staff
on July 28, 2014
e·gre·gious -- outstandingly bad; shocking.
The Ex-Im Bank: A "Petri Dish" of Corruption?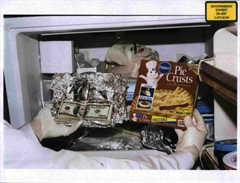 With a House
committee
preparing to examine allegations of corruption at the Export-Import Bank, it's an appropriate time to remember a couple of other instances involving corruption from Ex-Im's history.
Former Congressman Bill Jefferson (D-LA), famous for having $90,000 in cash in his freezer, is in federal prison today because he was bribed for promising to steer Ex-Im assistance to favored companies.


An Ex-Im Bank employee was indicted for taking a $100,000 bribe in the same case as Jefferson.
Employees at Ex-Im ran up a $97,367 tab during trips to London, Tokyo and the South Pacific – a tab that was picked up by companies vying for Ex-Im's approval of a project. The Ex-Im employees flew business class, viewed the project's route by chartered aircraft and were entertained by costumed villagers. A few months later, Ex-Im approved $3 billion in financing for the project, the biggest transaction in the Bank's history.
It was reported just last month that Ex-Im has suspended or removed four Bank officials amid investigations into allegations of kickbacks and corruption, as well – like former Congressman Jefferson – for attempting to steer federal contracts to favored companies.
###