Blog
Contact: Staff
Egregious Ex-Im Bank Deal of the Day
e·gre·gious -- outstandingly bad; shocking.

<! -------------- Links --------------------> <! -------------- Links End -------------------->

Washington, July 18, 2014 -


Ex-Im and the Democratic Republic of the Congo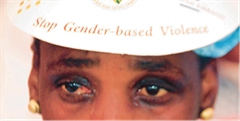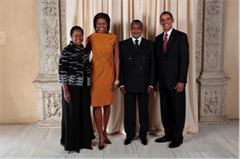 President Obama and the First Lady pose with Denis Sassou-Nguesso, President of the DRC, and his wife, Mrs. Antoinette Sassou-Nguesso.

The U.S. Statement Department reports the Democratic Republic of the Congo (DRC) is a country with "major human rights problems." One human rights organization labelled it the "rape capital of the world." According to another report, women in this country were raped by security forces to stop "women speaking about politics, human rights and, in some cases, rape itself."
Despite these horrific abuses and the DRC's recent track record of default, the Ex-Im Bank is open for business there, risking more taxpayer money in the process.
Here are the deal details:
Since 2010, the Ex-Im Bank has approved more than $3 million in financing for deals in the DRC, including the financing for many mining projects. Recently, the Obama Administration forgave $979 million in defaulted DRC government debt, which came from U.S. taxpayer-backed Ex-Im financing to the DRC. In 2010, Kerry Kennedy, founder of the Robert F. Kennedy Memorial Center for Human Rights, argued that it was the "Wrong Time for Congo Debt Forgiveness."
American taxpayers should be asking why the Ex-Im Bank is back in business in the DRC, providing financing to mining companies in a country with a terrible human rights record and a history of defaulting on hardworking American taxpayers.
Today, the Export-Import Bank's total exposure to the country is over $2 million.
###