Committee Finds Megabanks Coming up Short in Closing the CEO-to-Worker Pay Gap
Washington, DC, August 27, 2019
Following up on full Committee hearings in March and April where Committee Democrats asked megabank CEOs hard-hitting questions on issues including their alarming CEO-to-worker pay ratio despite making record profits in recent years, Congresswoman Maxine Waters (D-CA), Chairwoman of the House Financial Services Committee, and Committee Democrats asked megabanks for more information on their CEO compensation packages, worker pay, and the CEO-to-Worker pay gap.

Compensation for Megabank CEOs and Other Employees
Under the Dodd-Frank Wall Street Reform and Consumer Protection Act (Dodd-Frank), publicly traded companies, including megabanks, are required to disclose the ratio of what they pay their CEO to the median annual compensation of their workers.

This important pay disclosure requirement, which megabanks began reporting in 2018, allows for workers to evaluate how their pay stacks up to their company's CEO, helping shed light on income inequality and unfair compensation practices for America's workers.

Megabanks are earning record-breaking profits, but they are spending billions on share buybacks, and rewarding their CEOs with outsized compensation packages, as many American workers have seen their wages remain stagnant.

See analysis that underscores this issue below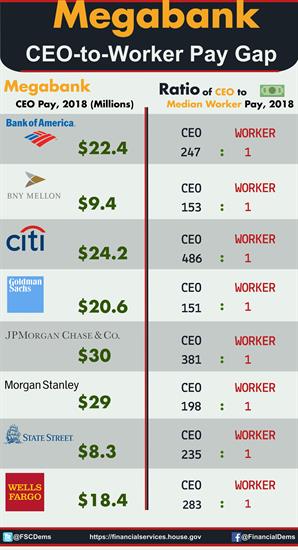 Committee Members Hold Megabanks Accountable
Member Q&A During Hearings
While any increase in worker pay is welcome, the Committee's oversight demonstrates modest pay increases are not enough, especially in high-cost areas.

In an exchange with JPMorgan Chase CEO, Jamie Dimon, during the April hearing, Rep. Katie Porter (D-CA) detailed how a person making $16.50 per hour working in Irvine, California, would still be unable to make ends meet with salary provided to entry-level workers at JPMorgan.

See the exchange below.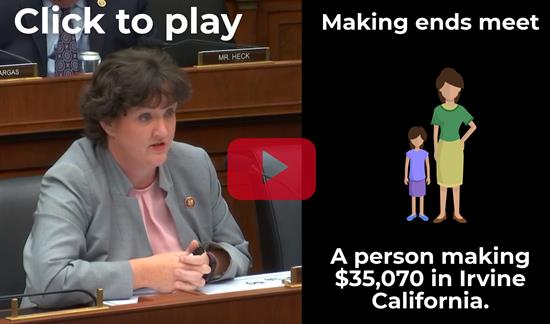 At the same hearing,
Rep. Nydia Velázquez (D-NY)
questioned Citigroup CEO, Michael Corbat, about the bank's distinction as having the largest CEO-to-worker pay gap of any of the nation's megabanks.
See the exchange below.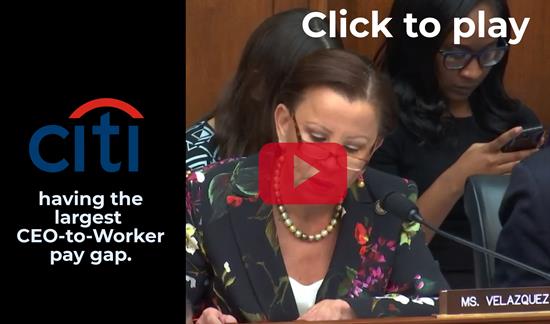 Post-Hearing Follow Up
Following the April hearing,
Rep. Rashida Tlaib (D-MI)
asked the megabanks to provide information on the wages they pay their workers.
See excerpts from their written responses below:
JPMorgan Chase:
"According to the latest year end data, the number of U.S. employees measured at year- end 2017 was approximately 170,330. The number of U.S. based employees measured at year-end 2018 was approximately 170,490…. [T]he annual total compensation (including employee benefits) for the firm's estimated median employee in the 2019 Proxy Statement was $78,923 versus $77,799 in the 2018 Proxy Statement (about a 1 percent increase)."

Citigroup:
"Citi's U.S. Employment was 67,814 in 2017 and 66,740 in 2018. Median pay was $48,249 in 2017 and $49,766 in 2018."

Bank of America:
"We are proud to be a leader in announcing that our minimum hourly wage for U.S. employees increased to $17 on May 1, 2019, and will continue to rise until it reaches $20 in 2021."

BNY Mellon:
"U.S. employment decreased by less than 700 employees year-over-year, from 28,350 as of December 31, 2017 to 27,650 as of December 31, 2018. Median pay for active full-time employees rose 4% year-over-year, from $51,750 in 2017 to $54,051 in 2018."

Goldman Sachs:
"The median pay at Goldman Sachs in the United States, from 2017 to 2018, increased by approximately $2,000."

Morgan Stanley:
"The median annual total compensation of all employees, other than the CEO, increased from $127,863 in 2017 to $142,604 in 2018."

State Street:
"No, as publicly disclosed earlier this year, the pay of our median employee did not increase."

Chairwoman Waters also followed up by asking both JPMorgan Chase and Citigroup CEOs whether they would consider raising the minimum wage for their workers to $20 per hour over the next two years, like Bank of America.
Their answer was effectively no. See the questions and full responses below:

Chairwoman Waters: "On April 9, 2019, Bank of America announced that it would raise its minimum wage to $20 dollars per hour over a two-year period. Mr. Dimon, will Chase commit to raising its minimum wage to $20 per hour over the next two years?"

JPMorgan Chase: "In early 2018, for the second time in two years, JPMorgan Chase increased the firm's internal minimum base wage to a range between $15 to $18 an hour across 100 U.S. cities. The firm thinks it is important to understand pay in total context including base pay, incentives, and benefits. The firm routinely monitors its pay practices to attract, retain, and appropriately reward great employees and will continue to do so."

"The increases described above benefit 22,000 full- and part-time U.S. employees, most of whom work in branches and customer service centers, and are in addition to the value of the firm's full benefits package, which averages $12,000 per employee for those employees in this pay range. For employees making $40,000 or less in the United States, the average pay increase has been $4,800 between salary and incentives. In each of the last several years, the firm has also made a $750 special award to employees making less than $60,000, through 401(k) contributions in the United States and cash awards outside of the United States in addition to any matching funds. The firm also reduced medical plan deductibles in 2018 by $750 per year for employees making less than $60,000. The items mentioned above do not include other benefits available to employees such as tuition reimbursement, paid parental leave, adoption assistance, fully paid short term disability for six months, fully covered Employee Assistance Programs, on-site Health Centers, and other valuable services."

"JPMorgan Chase is committed to creating opportunities in a positive work environment for all levels of the organization. As a result, the firm believes that focusing on total overall compensation, along with employee development, training, and opportunity, more accurately reflects the commitment to employees more than an undeveloped base hourly pay."

Chairwoman Waters: "On April 9, 2019, Bank of America announced that it would raise its minimum wage to $20 dollars per hour over a two-year period. Mr. Corbat, will Citi commit to raising its minimum wage to $20 per hour over the next two years?"

Citigroup:
"As of June 1, 2019, we have increased our U.S. minimum wage to $15/hour."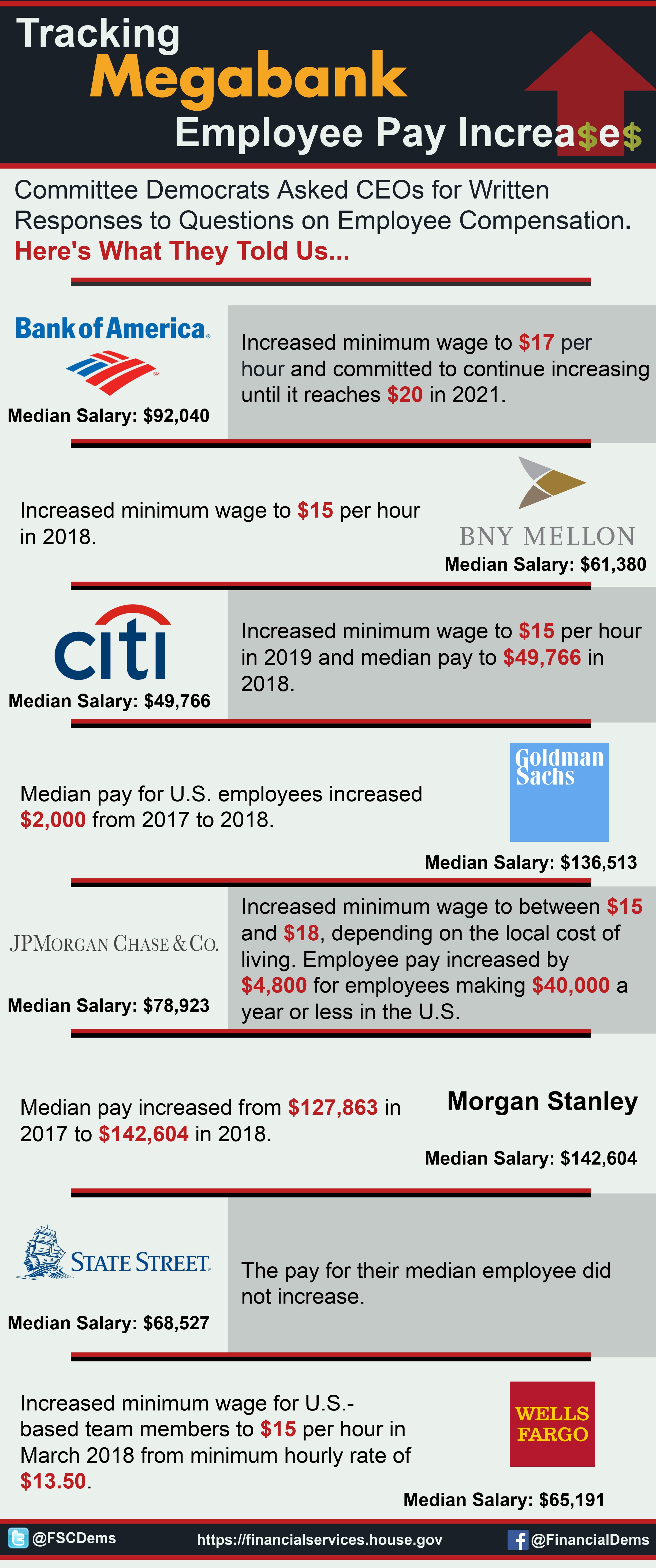 Following Committee Outreach, Megabanks Have Made Modest Changes.
Wells Fargo:
Shortly after Committee Democrats pressed Tim Sloan, CEO of Wells Fargo, about ongoing management failures and repeated consumer abuses, it came to light that Mr. Sloan had received a $2 million bonus the previous year.

Committee Democrats pushed for Mr. Sloan's removal, and days later, he resigned.

Bank of America:
Committee Democrats called Bank of America to testify and the day before the previously scheduled April hearing, Bank of America announced it would raise the minimum pay for its workers to $20 per hour by 2021.

The banking industry has made modest changes but it has a long way to go. Committee Democrats will continue to push prudential regulators and megabank CEOs to ensure just compensation for workers.

Key Takeaways

ALL megabanks should increase their minimum wage to at least $20 per hour by the end of the year, and to at least a "living wage" in the next two years so that all workers have enough to meet their basic needs, including food, housing, and clothing.

ALL boards for megabanks should consider ways to narrow excessive CEO-to-median worker pay ratios.

Financial regulators should finalize meaningful executive compensation rules that curb inappropriate compensation practices


###