Committee Releases Report on 2020 Activities
Report Highlights Committee's Legislative Efforts for Economic Recovery and Relief During A Time of Crisis
Washington, DC, January 15, 2021
Today, Congresswoman Maxine Waters (D-CA), Chairwoman of the House Financial Services Committee, released a report on the Committee's work during the second session of the 116th Congress. During a time of crisis, the Committee worked tirelessly to provide relief and protections to individuals, families, and small businesses across the nation.

"When the pandemic hit in 2020, the Committee did not slow down. We worked around the clock to respond to the crisis. Thanks to the hard work of Members and staff, the Committee has swiftly adapted to use technology to carry out the people's business in historic virtual hearings, roundtables, and briefings," said Chairwoman Waters. "Importantly, every Democratic Member of the Committee put forth needed legislation to provide relief and economic recovery. Next Congress, we will work closely with the Biden Administration, build upon the successes of this Congress and continue to prioritize consumers, investors, and small businesses."

The document highlights key legislation introduced by Committee Democrats to bring much needed relief to communities across the country and includes perspectives from Members and advocates.

Click here to view the report.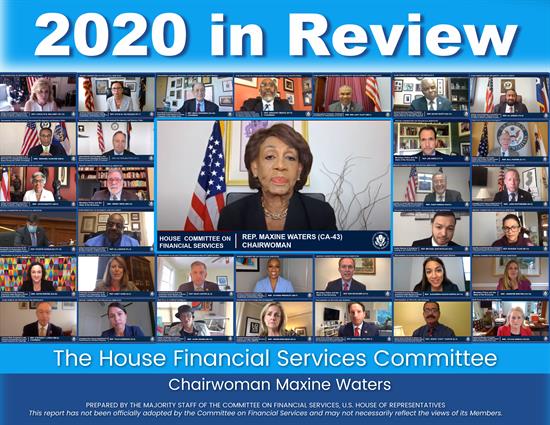 See here for the Committee's 2019 report.
####