Chairwoman Waters Meets with Secretary Yellen, Discusses Implementation of Rental Assistance
Washington, DC, July 27, 2021
Today, Congresswoman Maxine Waters (D-CA), Chairwoman of the House Committee on Financial Services, met with Treasury Secretary Janet Yellen to discuss a variety of important issues including the implementation of emergency rental assistance.

"This morning, I met with Secretary Yellen to discuss my priorities and the many ways in which we can work together to ensure that our country is on a path to an equitable and just recovery," said Congresswoman Maxine Waters. "After securing $46.6 billion in emergency rental assistance to provide relief to families in need, I am focused on making sure that this money is distributed and implemented correctly. As this pandemic crisis continues to impact communities across this country, it is critical that we efficiently and effectively use each of the tools at our disposal to keep people housed, support struggling families, and strengthen our economy. I look forward to continuing my work with Secretary Yellen."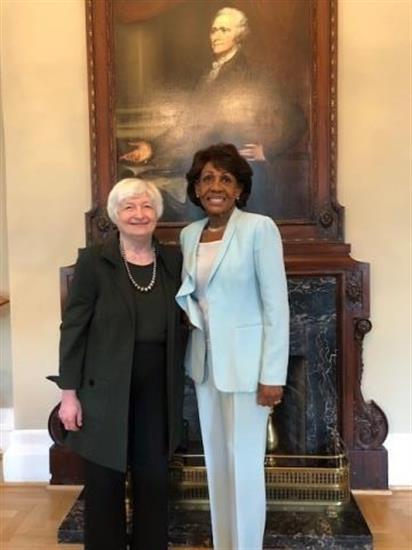 Pictured from left to right: Treasury Secretary Janet Yellen, Congresswoman Maxine Waters

Congresswoman Maxine Waters played an integral role in crafting pandemic relief legislation including the CARES Act, the December Coronavirus Relief Package, and the American Rescue Plan. Congresswoman Waters secured over $47 billion in assistance to renters, including emergency rental assistance, $10 billion in direct assistance to homeowners, $5 billion for emergency housing vouchers targeted to people at risk of experiencing homelessness, and $5 billion to enable state and local governments to finance supportive services and affordable housing.


###